With this technology, you can enjoy all the advantages of good Feng Shui without the inconveniences of re-arranging or even re-building your home, office or business! In fact, by now you can optimize your building with the energies of Feng Shui wherever you want them, no matter how "impossible for good Feng Shui" that building may be according to rigid traditional thinking.
All it takes are a quick reference sheet, a Chi Generator® such as the CE 69, the AO 1100 or the AO 2000, a Transfer Couple and a Feng Shui Bagua Set and especially the Feng-Shui-Plus Program. With this equipment, setting up the Feng Shui energy of your choice in the location of your choice will be as easy for you as 1-2-3!
In fact, by now you can go much further than custom-designing the layout of Feng Shui energies in your living- and work spaces! Now you can project the Feng Shui energy of your choice to yourself any place you are, no matter in what "Feng Shui corner" you are at the time being, and you can do so at any distance from your equipment, whether a few houses away from your Feng Shui Plus™ equipment or half around the planet. The new invention of the Chi Generator® by Karl Hans Welz makes this extremely easy for you!
Gone for good are the days when you had to go to a specific location just to be in the "correct" Feng Shui corner that is most suitable for your purposes, and gone for good are the days when you had to spend hundreds, if not thousands, to have some "professional " follower of traditional, by now totally obsolete, methods of Feng Shui advise you how to re-arrange, even re-build (for additional money) your business and/or your home. This expansion of your options became possible as a result of combining feng shui with the invention of the Chi Generator®. The choice which way to go is yours, of course.
Example: Above an office, the layout of which was considered "impossible" by practically all of the traditional "experts" who, at that, got paid well to come to such a conclusion. As far as the traditionalistic approach is concerned, they certainly were right. However, with the new technology of fengshui-plus, you can now even make very effective an office like that one above, and, most importantly, this does not cost you an arm and a leg in re-arranging, even re-building. A closer look to the example below reveals something else that's extremely useful: You can project dual and even three-fold energies wherever you want to do so! And, naturally, you project the Feng Shui energy wherever you want it to be active.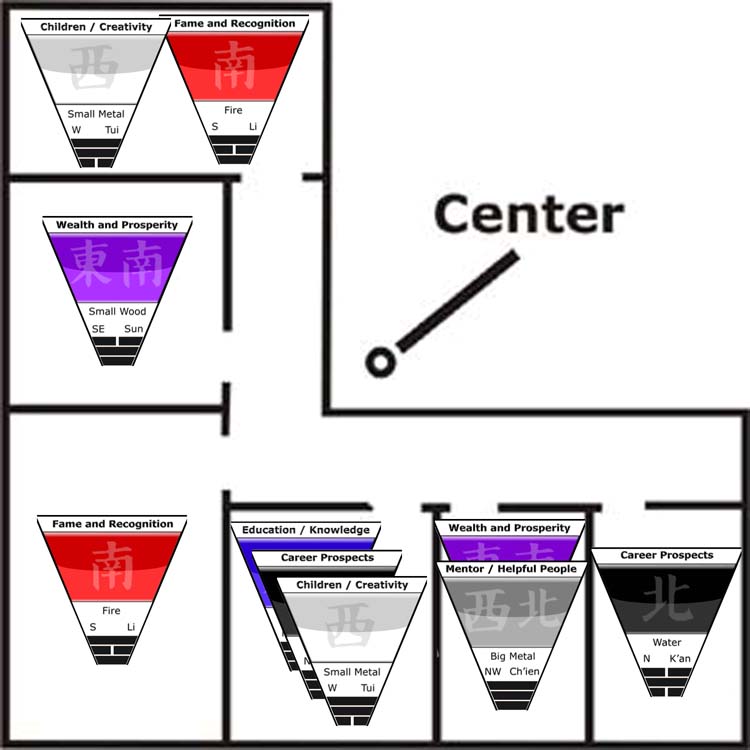 Now I am going to show you how you can do this with the FengShui-Plus Program:
(1) Start the Program
(2) Click "Start"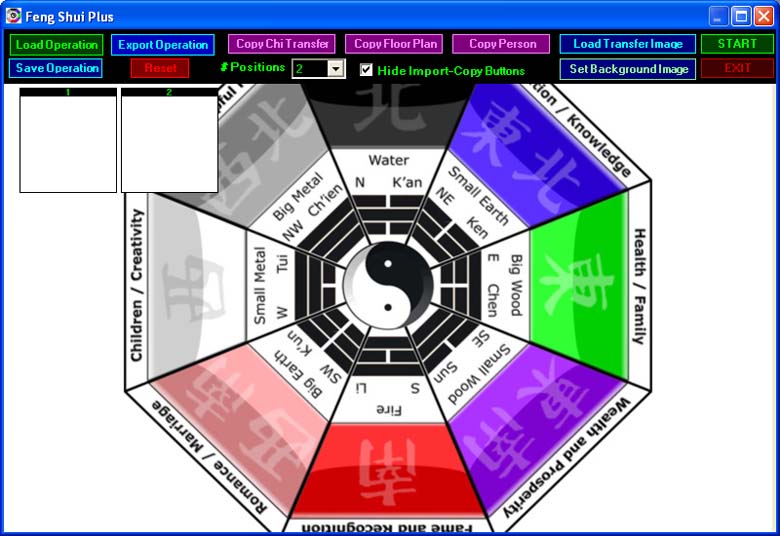 (3) Install the floor plan - or you can also install a picture of a person as a background
Install up to 12 Feng Shui energies wherever you want them. In the example below are two identical Feng shui energies at different places, which, according to traditionalists, is impossible. In addition to having the Feng Shui energy of your choice wherever you want it to be, the activated Feng shui energy is significantly enhanced with massive Chi energy. Whenever a person is in the targeted location, he or she received the approproate beneficial Feng Shui energy !!!
An effective way to make Feng Shui work for you BIG TIME, and it is as easy as 1-2-3 !!! Above all, this new technology is more flexible, more powerful, and more effective than any one of the usually expensive "expert solutions" offered to you by Feng Shui traditionalists.
By now, the choice, which way to go, is yours, of course.