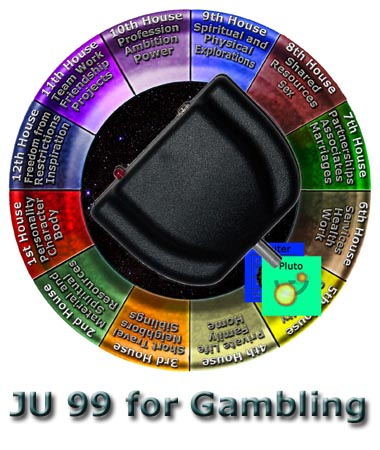 The Chi Generators® and Power Radionics™ Devices are great tools to enhance any mind function. This is an ideal precondition to help you enhance your skills of gambling and in games of chance in general such as the stock market. You can train your insight, your skills of intuition, your intelligence, and other skills that you can use to make your choices of stocks, numbers, or bets.
Very important in this respect is that you treat games of chance as a business. If, like most "non-professional" gamblers, you fall into the trap of leaving a casino only then when you have no money left to play, then you will lose no matter how good your overall odds are. A good rule of thumb is to leave whenever you have 50% more than the money with which you started playing, and this rule has to be followed no matter what. Then better odds can lead to overall success.
Also, state lotteries which pay out only 50% for each dollar spent on them are an extremely high risk when compared to a casino which typically pays out 95% for each dollar spent. Boosting the chances just 10% can naturally lead to overall success in casinos, provided that you treat gambling as a business, while such relatively low increase of the odds can still lead to substantial losses in state lotteries.
Excellent devices for individual use are the LPOG 2400 DL and LPOG 2400 HD and especially the RAD 2400 HD. Also great are the devices of the Performer series and, in conjunction with any HD devices, the Performer 2400.
If you're located within the United States click here to order by paypal